Waterfilters
Waterfilters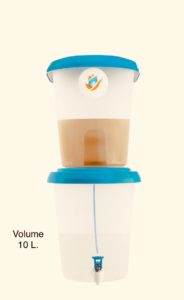 A two container water filter and water storage in one.
One water filter cleans 7000 liter of polluted water.
The two sealed buckets are safe and hygienic water storages of 10 liter each. No dust or insects can enter. The table top filter has a tap to pour the drinking water.
Prevents diseases and reduces the risk of diarrhea.
Suitable for every home and household.
No more carrying of heavy water bottles.
Enjoy pure and healthy water already after a few minutes!
The water filter is invented by a Dutch professor and developed in the Netherlands.
It has a ISO quality certificate. Several countries have tested the quality of the filtered water and provided positive results.
Awarded by the World Health Organisation
The WHO honours the Tulip Table of Basic Water Needs with the "Targeted Protection" classification.